Discover more from Monica's Marvelous Musings
Monica's Marvelous Musings covers topics in storytelling, art, music, and narrative design through a genre lens.
Updates from Monica Valentinelli for 05/21/2015

Weekly Update from M. Valentinelli
This week's news and posts from Monica's website includes:

In the 05/21/2015 edition:
*|MC:TOC|*
By Monica Valentinelli on May 19, 2015 02:48 pm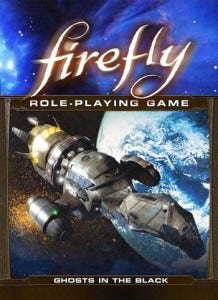 I am pleased to announce that GHOSTS IN THE BLACK is now available. This campaign supplement is designed by veteran game designer Robin Laws for the FIREFLY RPG. You and your Crew will have to perform some thrillin' heroics over the course of five, unique Episodes to uncover a legendary Alliance warship's dangerous secrets. As you play through "Six Cylinders Make a Right", "Prisoner 3102Y", "Tombstone Bullets and a Graveyard Mind", "Hellhound Trail", and "The Big Dark" you'll find out just how mighty powerful the Alliance truly is. The story, which is rooted in the Unification War, will provide you with hours of Firefly fun! Shiny!


Recent Articles:
Announcements: GenCon and Metallica, Firefly, plus Print and More!
Dealing with Negativity and Burnout Part 2
Breaking Down Success
Firefly RPG and the Origins Awards!
Announcing Codex Infernus: a Savage Guide to Hell Kickstarter