Discover more from Monica's Marvelous Musings
Monica's Marvelous Musings covers topics in storytelling, art, music, and narrative design through a genre lens.
Updates from Monica Valentinelli for 08/13/2015

Weekly Update from M. Valentinelli
This week's news and posts from Monica's website includes:

In the 08/13/2015 edition:
*|MC:TOC|*
By Monica Valentinelli on Aug 13, 2015 09:55 am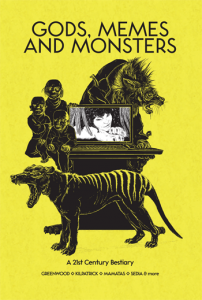 Popping in today to give you a quick preview of my story titled "Three of a Kind." I designed this pastiche about internet furies based on three programming languages, and I'm including the first couple of paragraphs for each one. They get progressively stronger, language-wise, as the pieces go on to represent the fury and how they feed off of our rage. The structure also ties into the language in some fashion, which is clearer to readers familiar with those languages once you see the whole piece.
The anthology, called Gods, Memes, and Monsters: A 21st Century Bestiary, has been published by Stone Skin Press and is available from their store directly or wherever books are sold. Please do check this out as there are dozens of amazing and very fine authors in this collection including: Chad Fifer, Charlene Challenger, Chris Lackey, Dave Gross, David Barnes, Dennis Bolen, Dennis Detwiller, Ed Greenwood, Ekaterina Sedia, Emily Care Boss, Gareth Hanrahan, Greg Stafford, Greg Stolze, James Wallis, Jean-Francois Chenier, Jerry Schaefer, Jim Webster, JM Frey, John Tynes, Jonathan Blum, Jonathan Howard, Julia Ellingboe, Kathryn Kuitenbrower, Kenneth Hite, Kurt Zubatiuk, Kyla Ward, Laura Lush, Molly Tanzer, Monica Valentinelli, Myna Wallin, Nancy Kilpatrick, Nick Mamatas, Patrick O'Duffy, Peter Ball, Peter Chiykowski, Peter Dubé, Peter Freeman, Richard Dansky, Robin Laws, Rupert Booth, Sam Agro, Sandra Kasturi, Silvia Moreno-Garcia…and many, many more.
If you'd like an eBook, please consider picking up a digital bundle of PDF, ePub, and Mobi formats for Gods, Memes, and Monsters: A 21st Century Bestiary from DriveThruFiction.com.
Three of a Kind
by Monica Valentinelli
aWduaXRl
(Base 64)
"Ignite"
"…shots fired at yet another elementary school in Virginia just days after…"
"…though he's a veteran political commentator, his surprising set of remarks have forced women's organizations to withdraw funding from…"
"…when asked how should we get young people to care about major issues, she answered: Do what I did. Cast a little-known actress into the role of an iconic super heroine…"
I am one of three entities, sisters of spirit and flesh. When you first meet me, you won't recognize me when you do, for I will be invisible. Yet, I am everywhere. Nowhere.
I am online on a website, in the comments, on forums and in chat rooms. I am lurking on your phone, spying on you while you talk to your friends, send your lover naked pics, bitch about your mom or your whiny best friend.
Can you see me now? My form becomes more solid each time you get angry; each time you get pissed off, each time you vent about something someone else said online.
6275726e
(Hexadecimal)
"Burn"
We are valkyries, succubi, poltergeists, imps, harpies, serpents and sinners who live on in bytes and pixels, feeding off your melting-cheese-on-the-asphalt rage, your hours wasted worrying about stupid bullshit, and your regret for diving into yet another flame war.
You've already met my sister, Ignite.
Thanks to the demon on your shoulder, the fires of your personal hell have been raging on in your mind.
I attack after Ignite, hit you hard every time you lash out and type a pissy comment, forcing you to stick around and wait for a response.
I can smell your fury burning through forum after blog after website. Burn, baby burn.
011000010111001101101000
(Binary)
"Ash"
Regret.
(I feed off of your guilt.)
When you were with my sister, Burn, your eyes were bloodshot, flames were shooting out of your nostrils, and your fingers flew across your keyboard. You posted hundreds of comments that'll get lost in a matter of hours…
(And still completely searchable to anyone who cares.)
…which is the equivalent of thousands of Calories.


Recent Articles:
My GenCon 2015 Schedule
[Pre-Order] The Gorramn Shiniest Dictionary in the 'Verse
My Books and Games At GenCon 2015
Martial Arts Movies and My Flavor of Fandom
Whispers in the Wind