Discover more from Monica's Marvelous Musings
Monica's Marvelous Musings covers topics in storytelling, art, music, and narrative design through a genre lens.
Updates from Monica Valentinelli for 01/14/2016

Weekly Update from M. Valentinelli
This week's news and posts from Monica's website includes:

In the 01/14/2016 edition:
*|MC:TOC|*
By Monica Valentinelli on Jan 14, 2016 09:30 am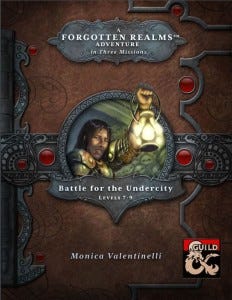 Today, I am pleased to announce the release of Battle for the Undercity, a D&D 5th Edition adventure I designed and wrote for a DM's use in any Forgotten Realms™ campaign. Rules and editing were provided by Scarred Lands developer Scott Holden. This adventure, which is available on the new www.dmsguild.com website, would not have been possible without Wizards of the Coast's recent announcement.
Despite wearing multiple hats in the gaming industry for over a decade, this adventure is my first foray into writing for Dungeons and Dragons, and I had a lot of fun designing it and the monster variants. The adventure is right in line with my design philosophy as a writer and gamer myself: providing value, which is what (I hope!) is reflected in the final result. So, for my first adventure I wanted to write something that could be run in any city found in the Forgotten RealmsTM with an underlying theme with a variable mood that can be amplified or downplayed according to the locations and characters the party encounters. Designing locations, characters, monster variants, plots… These sorts of things come very easily to me, which means my writing output is all that much faster, when the structure is established. (GAH! As I'm writing this, I'm getting all excited designing a new, experimental hybrid structure… DOWN BRAIN BUNNIES, DOWN!)
Regardless, I feel every writer (aspiring or established) benefits from the quality and structure of the existing D&D 5E material–and that is a no b.s. comment. I wouldn't have written an adventure that has no guarantee of benefiting me creatively or professionally if I wasn't impressed with it, and I feel it's easier to manage expectations based on pre-existing material. My decisions to do future adventures and material will depend upon sales, because I do need to make up costs in order for this to be viable since I'm writing full-time. 'Course, writing this wouldn't have been possible without playing 5E myself, since this is a different style of game than what I normally work on.
Battle for the Undercity takes place underground in a section of a major city. The party will navigate sewers, worked tunnels, forgotten crypts, and freshly dug passageways to fend off adversaries in order to rescue hostages and return them safely to the surface unharmed. Can your party emerge victorious and save the day?
In this adventure you will find:
Adventure background and hooks

Map to the Undercity

Detailed location guide

Suggestions to increase and decrease the Challenge Rating

Advice to customize the adventure to your party

New! Crimson Coins thieves' faction and characters

New! Ten Legs tribe, Goblin Beast-Master, and Beast-Rider monster variants

New! Corrupted Shield-Guardian monster variant

New! Ancient Revenant monster variant
This adventure includes three, separate three-to-four hour long missions that can be run in any order, depending upon the needs and composition of your party members. While this was designed as an adventure module for 7th- to 9th-level characters to be run in the recommended timeframe, you will find notes to adjust the missions to increase or decrease their difficulty and length.
If you're interested in supporting my work, buy a copy of Battle for the Undercity.


Recent Articles:
Codex Entry: A Letter from an Up and Coming Inquisitor
On Hunter the Vigil 2nd Edition Open Development
New Releases: Gaming Cookbook and Mistborn Supplement
Progress Report #9: A Storm Has Passed
Update on Upside Down: Inverted Tropes in Storytelling