Discover more from Monica's Marvelous Musings
Monica's Marvelous Musings covers topics in storytelling, art, music, and narrative design through a genre lens.
Updates from Monica Valentinelli for 03/03/2016

Weekly Update from M. Valentinelli
This week's news and posts from Monica's website includes:

In the 03/03/2016 edition:
*|MC:TOC|*
By Monica Valentinelli on Feb 28, 2016 11:39 am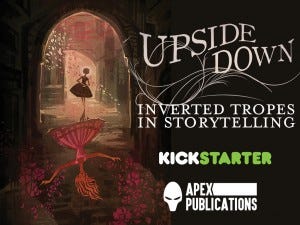 Now that the initial dread and anticipation of launching a Kickstarter has passed, I am having a blast. That sense of impending doom, for me, essentially boiled down to two fears: one) will backers like the concept and two) will they like it enough so I can ensure everyone on the project is treated well.
So far? So good! It's only been a few days, and we're already half-funded. Due to the rapid but steady pace of our milestones, I've posted more updates than I initially planned. Now that we're mid-point, I can slow down a bit to avoid flooding our backers' InBoxes. This is all very exciting, either way. Thanks so much for supporting Upside Down!
Here are the updates about tropes I've posted thus far, along with a silly meme that we cooked up:
Until next time… I've got loads of writing to do and a bit of fake spring cleaning. We're due for 21 inches of snow next week!


By Monica Valentinelli on Feb 26, 2016 07:05 am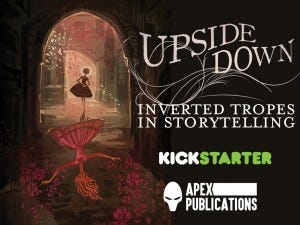 Today, Hugo-nominated Apex Book Company is pleased to announce the launch of a Kickstarter for Upside Down: Inverted Tropes in Storytelling. The anthology's concept highlights the long-standing tradition of writers who tackle tired tropes or clichés prevalent in popular media and twist them to tell fresh and interesting stories.
Upside Down: Inverted Tropes in Storytelling is edited by Monica Valentinelli and Jaym Gates. Each author in this collection has examined a specific trope or cliché that includes: Chainmaille Bikini, The Black Man Dies First, Superhero Had a Crappy Childhood, Yellow Peril, and The Chosen One.
The anthology features cover art by award-winning artist Galen Dara, and includes speculative stories from Maurice Broaddus, Anton Strout, Shanna Germain, Sara Harvey, Delilah Dawson, John Hornor Jacobs, Rahul Kanakia, Alethea Kontis, Haralambi Markov, Sunil Patel, Kat Richardson, Nisi Shawl, Alyssa Wong, and many others.
In addition to fiction, planned stretch goals will further enhance the collection's theme and presentation by adding essays about tropes and clichés. Backers may also add additional books and a subscription to Apex Magazine to further support Apex Book Company and ensure the success of this unique collection.
To find out more about Upside Down: Inverted Tropes in Storytelling, be sure to watch for milestone-related updates from the editors on the Kickstarter at Upside Down: Inverted Tropes in Storytelling Kickstarter or on the Apex Book Company website at www.apexbookcompany.com.


Recent Articles:
On Surviving and Planning for Conventions
1930s Catsup and a Blog Challenge for Moi
Get Your 'Verse on! Firefly RPG on Sale, Pre-Order Phrasebook, and SCIENCE
Voynich Redux
Janus Goes Both Ways