Discover more from Monica's Marvelous Musings
Monica's Marvelous Musings covers topics in storytelling, art, music, and narrative design through a genre lens.
Updates from Monica Valentinelli for 04/07/2016

Weekly Update from M. Valentinelli
This week's news and posts from Monica's website includes:

In the 04/07/2016 edition:
*|MC:TOC|*
By Monica Valentinelli on Apr 07, 2016 10:31 am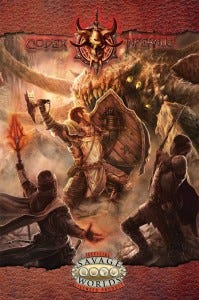 I had the pleasure of helping develop the game world for Codex Infernus: The Savage Guide to Hell, which is a book about adventuring in a hell for the Savage Worlds system.
A holy warrior fighting back infernal beasts on the precipice of a fiery pit. Cloaked figures chanting an incantation to bring forth a nameless beast. A man standing at a crossroads bartering with a demonic temptress for fame and fortune; the price of which is his very soul.
Advisers to kings and queens, dictators and presidents, whispering lies at the behest of their demon lords with the fate of nations resting on whether or not the advice is heeded. A scientist examining a strange artifact found on a distant planet that, unbeknownst to him, opens a mysterious gate to a nightmarish dimension when a button is pushed.
These are just a sampling of the myriad images which come to mind when we think of Hell. Codex Infernus: The Savage Guide to Hell, brings those images to life and shows you how to plug them into your games, regardless of what genre you love to play!
Codex Infernus: The Savage Guide to Hell is now available for download on DriveThruRPG.com.


By Monica Valentinelli on Apr 05, 2016 01:35 pm


Rosarium Publishing, which was established in 2013, is a small press publisher featuring comics and stories with a multiculturalism in mind. While the discussion and need for diversity in media continues to grow, there is a significant number of authors, like Nisi Shawl who will be part of our upcoming anthology Upside Down, who are and have been working in publishing to varying degrees. There are, however, minority-owned publishers as well, and Rosarium (owned by Bill Campbell) is one of those publishers.
This post is not to convince you that multiculturism is important, because you either believe that it is or you don't. Regardless, this is a growing aspect of our media, and it is a path to the future as we become more connected. The challenge, unfortunately, for any small press publisher is to deal with the rising costs of doing business. From distribution and shipping to paying writers a fair wage, being a publisher is not a cheap proposition. This is why many publishers have begun leveraging crowdfunding efforts (Patreon/Kickstarter/IndieGoGo, etc.) to help raise the capital in order to grow or fund projects that are normally a cost sink.
As a writer, editor, and game designer myself, I feel that multiculturalism is crucial to engage and encourage new readers and players, as well as support existing professionals and nurture new and interested artists. We live in a world of media that reaches across borders to every corner of the world, and many fans of the properties I've worked on live overseas. And, as I've said many times before, multiculturism is also important to me personally as well, because I feel that reading widely is important to becoming a better writer.
It is for all these reasons and more, that I hope you'll consider checking out the Indie GoGo for Rosarium Publishing and their stellar catalog of titles.
Mood: I am all out of f-bombs to give today.
Caffeinated Beverages Consumed: Working on my third cup o' coffee.
Work-Out Minutes Logged Yesterday: Still coughing. Oy.
In My Ears: Soma.FM's Deep Space One station
Game Last Played: Some puzzle game. Not sure what it's called.
Book Last Read: Raising Steam by Tanith Lee
Movie/TV Show Last Viewed: The Two Towers.
Latest Artistic Project: Um… Let me get right on that. Still, even.
Latest Fiction/Comic Release: Gods, Memes, and Monsters
Latest Game Release: Dread Names, Red List for Vampire: the Masquerade and Ghosts in the Black for the Firefly RPG.
Current State of Projects: Read my latest project update.


By Monica Valentinelli on Apr 04, 2016 06:04 pm


Space. The final frontier. Or, should I say…the exciting frontier? In the realm of science fiction, I feel a working knowledge of astronomy benefits both writer and reader in numerous ways. From providing a sense of wonder to ensuring a baseline of believability, I feel the Science in science fiction is very important.
Today, I'm thrilled to share with you that I'll be attending the Launch Pad Astronomy Workshop to study astronomy.
Launch Pad is a workshop for established writers held in beautiful high-altitude Laramie, Wyoming. Launch Pad aims to provide a "crash course" for the attendees in modern astronomy science through guest lectures, and observation through the University of Wyoming's professional telescopes. SOURCE: www.launchpadworkshop.org
There's a number of reasons why I'm grateful to be participating in Launch Pad, and I'm looking forward to incorporating astronomy into my work. I cannot wait to peer through the telescopes and see the beauty of our solar system.
GO SCIENCE!


Recent Articles:
On Permission and Self-Care
A Few Announcements, Sales, and Appurtenances
On Alternate History and Investigative Research
Announcing the Final List of Contributors and Tropes for Upside Down
Thanks to You Upside Down is Funded!