Discover more from Monica's Marvelous Musings
Monica's Marvelous Musings covers topics in storytelling, art, music, and narrative design through a genre lens.
Updates from Monica Valentinelli for 06/02/2016

Weekly Update from M. Valentinelli
This week's news and posts from Monica's website includes:

In the 06/02/2016 edition:
*|MC:TOC|*
By Monica Valentinelli on Jun 02, 2016 09:25 am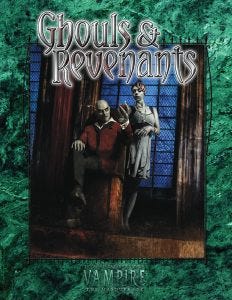 Today, I am pleased to announce the release of Ghouls & Revenants for Vampire: The Masquerade 20th Anniversary Edition.
By Blood It Is Done
Bound by their masters' blood, ghouls serve the undead and fight their battles in the shadows. Dragged, seduced, or forced into the night, ghouls live at the whims of their masters–for better or for worse.
By Blood It Is Made Anew
Revenants are twisted and unique. They have vampiric powers and extended life, as well as a form of the Beast all their own. Crafted by blending ghouls with dark magic, Revenants have become something else altogether.
Ghouls & Revenants includes:
Expanded and revised character creation for ghoul and revenant player-characters

Clan and Sect write-ups for ghouls who serve them

New revenant families including the Rossellini, Kairouan Brotherhood, and more.

New rules to play ghouls and revenants including new Merits & Flaws, Backgrounds, Discipline Packages, etc.

A Storyteller chapter for advice on running ghoul-or-revenant focused chronicles.

…and more!
I hope you enjoy this nuanced perspective on ghouls and revenants for Vampire: The Masquerade!


By Monica Valentinelli on May 28, 2016 02:15 pm

Today, I am pleased to announce the open call for Hunter: The Vigil Second Edition. I will be using the existing Submission Guidelines and program that's in place for all Onyx Path Publishing's game lines, and will be reviewing submissions within the next 60-90 days.

In my post on the Onyx Path website, I talk about thoughts on hiring for this monster-hunting game line and share the link to the open submissions and what my inspiration is for this core rule book.
I look forward to building my team for the Second Edition of Hunter: The Vigil, and encourage you to apply if you're interested.


By Monica Valentinelli on May 28, 2016 02:01 pm

You have seen it. You have felt it. The dream where you are falling, falling, and you cannot see the ground but you know it is there waiting. You may try to brace yourself, you may try to force yourself awake—you do anything to avoid the impact that keeps rushing toward you.
The Seelie Court is the realm of the hidden, the rumored, and the unknown. Fairies, spirits, and enchanted creatures mingle there, building alliances, plotting, scheming, toying with the realm of humans—and with each other. The court has long held a distant attachment to the material plane, influencing it like a dream influences our waking hours. But now a new connection has emerged, allowing humans to infiltrate the courts and influence its proceedings. At a time when magical power is ever in the rise, the mix of human and fae could set both worlds into a calamitous plunge, and no one will want to be awake when they hit bottom.
Today, I am pleased to announce that I co-developed an alternate setting for the Shadowrun RPG with Jason Hardy. And, the first of my design posts for this book just went live! Over the course of the next several weeks, you'll learn more about what's in the book, who's writing it, and how fun this'll be for runners.
For a sneak peek, check out Court of Shadows Design Files #1: Unearthing Tír na nÓg.


Recent Articles:
New Release: Dark Eras and Hunter's "Doubting Souls" set in Salem
Update on Summer Scheduling and an Invitation
On Cultivating Resilience
On GenCon, Visibility, and Being Welcome
GenCon Industry Insider Featured Presenter