Discover more from Monica's Marvelous Musings
Monica's Marvelous Musings covers topics in storytelling, art, music, and narrative design through a genre lens.
Updates from Monica Valentinelli for 11/03/2016

Weekly Update from M. Valentinelli
This week's news and posts from Monica's website includes:

In the 11/03/2016 edition:
*|MC:TOC|*
By Monica Valentinelli on Nov 03, 2016 08:04 am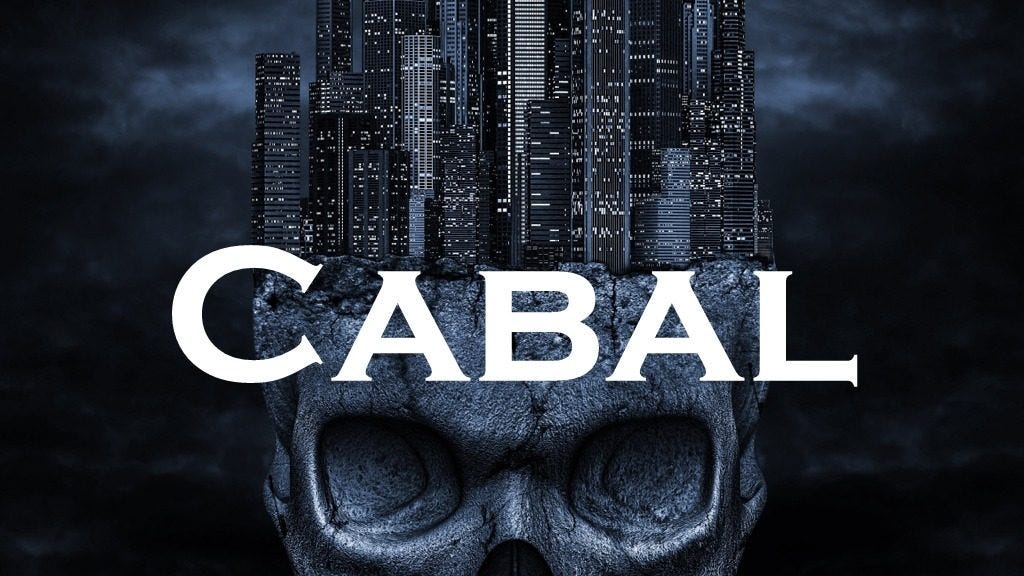 Andrew Peregrine has launched a new RPG on Kickstarter called "Cabal".
Cabal is an RPG that works in reverse to the way tabletop RPGs usually function. Instead of each player creating their own character, you create a single character between you. This character is an organisation with its own secret plan and goals. It might be a conspiracy, a corporation, an activist group, an occult society of magicians or even a collection of hidden alien refugees. The size, influence, resources and pawns of the group depend entirely on what attributes the players choose between them for the organisation. SOURCE: Cabal RPG on Kickstarter
The organization I've proposed is a cabal hidden in plain sight that seeks to bring back the gods and goddesses of ancient times–real and imagined. This cabal can't be added to the book without your help, so check out the Cabal RPG on Kickstarter to see if this type of game of secrets and hidden conspiracies is in your wheelhouse. Join us!


By Monica Valentinelli on Nov 01, 2016 11:47 am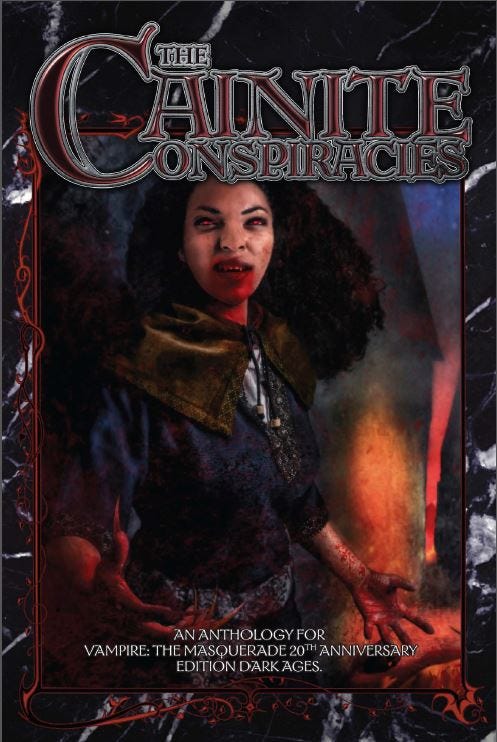 Today, I am pleased to share with you the cover art and Table of Contents for my upcoming anthology: The Cainite Conspiracies. This collection of short stories, which is inspired by Vampire: The Masquerade 20th Anniversary Edition Dark Ages, has a stellar roster that includes fantastic authors and Vampire developers past and present.
Watch for the anthology to be released in November!
Table of Contents for The Cainite Conspiracies
A Vampire: The Masquerade 20th Anniversary Edition Dark Ages Anthology
Young, Gifted, and Ventrue by Maurice Broaddus
Family is Family by Renee Ritchie
Acts of Cruelty by Justin Achilli
A Quest for Blood by Russell Zimmerman
Sand and Dust by Andrew Peregrine
Incarnadine Seas by Catherine Lundoff
The Last Spark by Eddy Webb
The Hidden Stars by Jacob Klunder
Omen's End by Ree Soesbee
Eighty and Nine by David A. Hill, Jr.
Ghosts of Chorazin by Alan Alexander
Orfeo's Plague by Richard Dansky
Veil of Power by Danielle Lauzon
Goat's Nails by Neall Raemonn Price


By Monica Valentinelli on Nov 01, 2016 10:38 am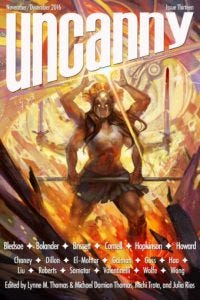 I am pleased to announce that I have an essay titled We Have Always Been Here, Motherfucker in Uncanny Magazine Issue No. 13. I am joined by a fantastic list of contributors
Here's more about this premiere issue for year three:
Space Unicorns! Uncanny Magazine Issue 13 Part 1 is LIVE! Featuring all–new short fiction by Paul Cornell, Brooke Bolander, Jennifer Marie Brissett, reprint fiction from The Starlit Wood by Amal El–Mohtar, nonfiction by Alyssa Wong, Monica Valentinelli, & Navah Wolfe, poems by Neil Gaiman & Theodora Goss, and a Jennifer Marie Brissett Interview! Plus Julie Dillon's "Impact Crater" on the cover!
The Uncanny Magazine Podcast Episode 13A: Editors' Introduction, Paul Cornell's "Don't You Worry, You Aliens" as read by Heath Miller, Brooke Bolander's "Our Talons Can Crush Galaxies" as read by Erika Ensign, Theodora Goss's poem "Rose Child" as read by Amal El–Mohtar, and Brooke Bolander interviewed by Deborah Stanish.
The entire issue is available for purchase as an eBook (PDF, EPUB, MOBI) RIGHT NOW. The second half will be released on December 6.
PLEASE SUPPORT UNCANNY! SHARE YOUR FAVORITES! Or feel free to purchase subscriptions from Weightless Books or Amazon Kindle or become a Patreon Patron!
For more about this magazine, visit www.uncannymagazine.com.


By Monica Valentinelli on Oct 31, 2016 01:49 pm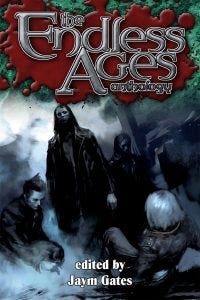 Have you picked up your copy of Endless Ages yet? If not, today's post gives you a little bit of insight into my inspiration behind "Redder Than Red". Happy Halloween!
What Motivated Me to Write Redder Than Red
When I was working on Dread Names: Red List, Matt (McElroy) and I would speculate which Anathema would be the first to get caught in the modern era and why. Often, Ayisha Jocastian's name would pop up because she represents a direct threat to the Masquerade. As an Anathema, Ayisha is unique in the sense that she believes that the consciousness of the vampires she has consumed are directing her actions, but she is also a political threat because her zeal to reproduce and distribute the Book of Nod. Though Ayisha was already condemned to the Red List and could never be removed, she is an active threat who will not stop committing diablerie, nor will she stop sharing vampiric secrets with mortals.
My story, which is titled "Redder Than Red", is written from the perspective of a Malkavian named Rebecca Fleischer whose childe was diablerized by Ayisha. Rebecca suffers from a form of Obsessive-Compulsive Disorder called Arithmomania, which means she has a fundamental need to count. I felt this would be a good mental illness to help illustrate what Rebecca is feeling and seeing, and gets away from the stereotypes that plague members of Clan Malkavian and undermine their potential in a story.
Together with Ventrue Alastor Stephan Ashworth, the two Kindred drive to a warehouse to confront Ayisha Jocastian once and for all. Stephan adds some setting heft to the story, as both Alastors and Anathema are part of the rich lore associated with the Red List, but he also offers a dynamic to show this fight isn't between two vampires. For Rebecca, however, her desire to take down Ayisha is personal; losing her childe is a powerful motivator for vengeance.
I hope your thirst for vampire fiction will draw you to "Redder Than Red". This story was a lot of fun to write, and I enjoyed taking on this aspect of Vampire: The Masquerade for the modern era.


Recent Articles:
[New Release] Endless Ages Vampire: The Masquerade Anthology
A Starry Update on Upside Down: Inverted Tropes in Storytelling
Habit Tracking through Bullet Journaling
It's Inktober (Photos)
On Sabbaticals and Making My Own Art