Discover more from Monica's Marvelous Musings
Monica's Marvelous Musings covers topics in storytelling, art, music, and narrative design through a genre lens.
Monica Valentinelli

Take the Make Art Not War Challenge and Change Your World
Welcome to 2019!

Hey friends,

I have a short update today, because I'm packing for CONfusion in Michigan! I wanted to share with you my schedule for the show, and a fun announcement. I had the pleasure of designing a fantasy world, and wrote a novella for a brand new solo card game called Proving Grounds. Following this, I'm not sure what my convention schedule will be for the year; I'm wrapping up some commitments to plow forward with my own stuff, and you'll hear all about that in the coming months.

Overall, I decided to change my tactic on New Year's Resolutions. Instead of a list? I'm focusing on a keyword: momentum. What does that mean? To me it's a kinder, gentler version of the Juggernaut and "a body in motion stays in motion." With more smiley faces, of course!

Hope the year will hold lots of wonderful opportunities, friendships, and luck for you. Chat soon!

- M

In the 01/17/2019 edition:
*|MC:TOC|*
By Monica Valentinelli on Jan 14, 2019 12:10 pm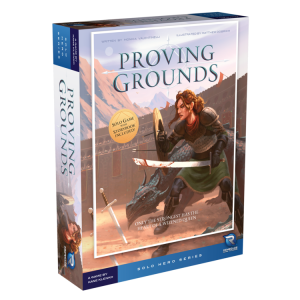 Maia Strongheart stands alone against the world. A cabal of conspirators has framed her for the death of her own mother, the Sun Queen, and they intend to usurp the throne from her family. To prove her own innocence and reclaim her birthright, Maia must step into the Proving Grounds to complete a trial that will stretch her combat skills to the limit. Will the Wizened's chosen daughter vanquish her foes in the arena? Or will she be overwhelmed by the conspirators and their evil aspirations?
If you've never played a solo game before, this is a great place to start. There is a training game and six different gameplay modules. Once you've learned the basics, add a single module or mix and match to your tastes. If you're feeling truly adventurous, put them all together for a true test of your gladiatorial combat skills!
Proving Grounds is a unique title that'll be released this Spring from Renegade Game Studios. The release is a solo card game plus novella! I designed the fantasy world and wrote the novella titled: "Only the Strongest Has the Heart of a Wizened Queen".
You can pre-order Proving Grounds now from the Renegade Games store. Exciting!


By Monica Valentinelli on Jan 12, 2019 11:02 am

Hey friends,
I'll be attending CONfusion 2019 next week in Michigan, and will be attending and speaking on panels. There's some fun things in programming I'll be checking out, and I'm looking forward to a great time.
Autograph Session
Saturday, TBD, Eerie Ballroom
Join the attending authors at CONfusion and get your books signed! I'll be bringing bookplates if you don't want to drag any of my books to the reading.
How Fears Shape Superstitions
Sunday, 11:00 AM, Allen Park
From black cats-as-familiars to the number 13 being bad, all modern beliefs are rooted in folklore and ancient traditions that have been affected by political and social mores. Panelists will share examples and then discuss whether or not these powerful beliefs are harmful or helpful.
Panelists: Steve Buchheit (M), Lucy A. Snyder, Sarah E. Gibbons, Nino Cipri, Monica Valentinelli
Author Reading
Sunday, 1:00 PM, Rotunda Reading
Authors: Nino Cipri, Stacey Filak, Monica Valentinelli
Expanding The Definition of Witchcraft
Sunday, 2:00 PM, Southfield
Witchcraft in fiction often taps into real world tragedies, myths and folklore, spiritual practices, sexuality and gender treatment through the lens of Western occultism. Witchcraft, however, is more than riding brooms or dancing naked. Panelists will explore the definition of witch and then provide examples of witches through underrepresented lenses.
Panelists: Monica Valentinelli (M), Josef Matulich, Paul Kemner, A. Carina Spears


Recent Articles:
Read "My Name Is Cybernetic Model XR389F, and I Am Beautiful" for Free!
My 2018 Summary and Publications in Games, Fiction, and Non-Fiction
[New Release] "My Name is Cybernetic Model XR389F, and I Am Beautiful" in Uncanny Magazine Issue 25
[New Release] Firefly TV Show Encyclopedia + Bonus Interview with Tony Lee!
Mark Your Calendars! My Upcoming Story in Uncanny Magazine