Discover more from Monica's Marvelous Musings
Monica's Marvelous Musings covers topics in storytelling, art, music, and narrative design through a genre lens.
Monica Valentinelli

Find Books and Games by Monica Valentinelli on Amazon.com
A Planned Retreat and Terrible Timing
Hello friends! I'm sure, like me, you're watching the news and exercising caution to see what happens next. At the end of February, I travelled to Florida for our annual Make Art Not War writer's retreat hosted by Alethea Kontis. I'd planned on attending ICFA for the first time, largely to cheer friends on and listen to Jeff Vandermeer, who was the guest of honor this year. Unfortunately, ICFA has not only been canceled, there's an outbreak back home and a potential threat here. Right now, I'm still in Florida and am making the most of this time away while attempting to stay informed.
In that vein, I wrote a post sharing some survival tips which follows below. Not only is it challenging to make plans right now, it's also hard for any of us to think past April. That affects local politics, fire departments, police officers, and health care professionals. It also impacts many creative professionals who rely on their convention presences to make a living and the tourism industries which includes dock workers, food services, hotel and hospitality venues, etc. on top of delivery services, publishers, food and delivery workers, etc. I have been affected by the closures, but only marginally due to SXSW's cancellation and whatever conversations that conference might have yielded from Wonder Stories' debut. Right now, the forecast for what happens next isn't clear, because there's so much going on I feel as if Eris swept everyone into a tornado.
I'm not sure how I feel right now, because while my career is important this is an incredibly serious pandemic that puts everyone's health and safety at risk. Sure, life must go on, but the well-being of others is more important than likes on Facebook. The entire situation has been handled so poorly it's challenging for me to "trust but verify" facts. Rather, the opposite rings true. I am lucky I'm already in planned isolation while worrying about my return home and trying not to feel guilty about celebrating a birthday in the midst of all this. There's little I can do except take care of small things like voting absentee and waiting—quite frankly, I've never been very good at that. So, I'll keep writing instead, carefully monitor the situation, and see what happens.
I am reviving the Crafty Witches Slack for those of you who are artistically inclined and interested. We're reducing the channels for now; we'll create more when needed. That'll address some of the issues we had before so people can get to know one another. This week I'm also sharing news about a new anthology called Haunting Shadows as well. Hopefully, there will be better times ahead for all of us.
Love, - Monica
Website: www.booksofm.com Patreon: https://patreon.com/booksofm
Ko-Fi (Donate Coffee): https://ko-fi.com/A527F5H


In the 03/19/2020 edition:
*|MC:TOC|*
By Monica Valentinelli on Mar 17, 2020 09:00 am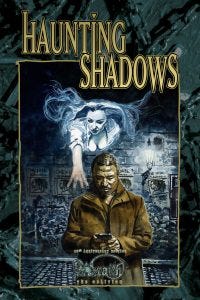 Now available for your spooky reading pleasure! Haunting Shadows is an anthology for Wraith The Oblivion 20th Anniversary Edition. I'm pleased to mention I have a haunted tale called "Scritch, Scratch" told from a wraith's perspective about a group of ghost hunters investigating House on the Rock.
Remember those nice stories they told you about what'd happen after you died? They were wrong. There is no Heaven and there is no Hell. There's only the Underworld, with the ravening maw of Oblivion at the bottom and the impossible dream of Transcendence at the top. And, somewhere in between, are scores of Restless Dead. Are you ready to join them?
This collection of short stories is inspired by Wraith: the Oblivion 20th Anniversary Edition. You'll explore the Underworld, roam the streets of Stygia, the eternal city, visit a haunted museum, and walk new and exciting locales. This anthology includes tales by classic and new Wraith authors such as Richard Lee Byers, Jackie Cassada, Rich Dansky, Monica Valentinelli, Catherine Lundoff, Joe Nassise, and more!
The anthology is now available to purchase online through DriveThruFiction.com, Amazon.com, and BarnesandNoble.com.




By Monica Valentinelli on Mar 13, 2020 12:52 pm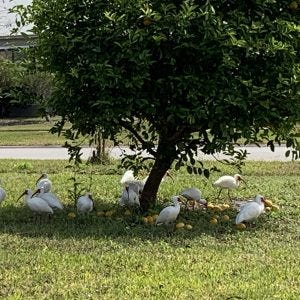 Ibis Eating Sweet Lemons
Most people I know are living in a state of uncertainty right now caused by the coronavirus and a downturn in economic indicators. I honestly don't know how I feel about all of this, because yesterday I felt all the emotions—anger, fear, anxiety-until I accepted that this is the new "normal".
I recently wrote a nonfiction essay reviewing all that'd happened within the past five years. I reminded myself that the chaos we've all been experiencing in gigantic and tiny ways is nowhere near what we've dealt with before—at least in my lifetime. We've acclimated to every abrupt change, every dogwhistle to attack the Other, and every shitty leader who doesn't know how to bring people together. The coronavirus is an escalation and many of us worry what'll happen next. Except, you can't tell people not to be anxious. Ever try that? They only become more so.
With that in mind, I'd like to share five coping mechanisms that have worked for me in the past.
1. Mental Health Check-Ins
It's hard to "see" progress you're making, because unlike physical health there's no bandage for depression. A mental health check-in is a way of mitigating that, because you "check in" on a semi-regular basis. There's a lot of different ways to do this. You could use mood journalling and bullet journal graphs so you watch your progress over time. You could decide that you need therapy right now, and go the professional check-in route. Or, you could touch base with friends/lovers/family on a semi-regular basis to share how you're faring. I've used a combination of tactics over the years, and I've often found that knowing I am not alone (and not the ONLY person who's feeling what I'm feeling) is what works for me. Sometimes, that means I check up on people I haven't heard from in a while, too.
2. Reduce Noise
I've mentioned this before, but as a former musician everything translates into a song for me. Every word as a tone, every Tweet is a tiny refrain that carries emotional weight. My head quickly gets "noisy" if I fall into a rabbit hole where I'm constantly watching for updates and I can't create. There's too much noise and not enough silence.
I've had a love-hate relationship with social media, because I'm never quite sure if I can continue on platforms where people's mental health and safety is not taken personally. Yes, Twitter (less Facebook these days) is a frenzy of breaking news and unverified facts, but there's so much misinformation mixed in with personal connections it's often hard to know if I'm stepping into a minefield or not.
I know now I need to mitigate my usage for my mental health. Being online has its benefits and drawbacks because the websites and platforms we use are tools. Multiple studies have shown these tools have an affect on mental health, and as part of a plan to cope with the Chaos Timeline? It's really a good idea to figure out your relationship to that.
The other thing I'd mention is that white noise and noise-cancelling headphones have been invaluable to reduce external influences. RainyMood.com and FocusMusic.fm are two, great free sites you can use.
Lastly, the opposite is also true. Sometimes, if you're feeling stuck exploring YouTube! to find new songs or instrumentals is pretty awesome.
3. Drink More Water than Caffeine
Pretty self-explanatory, right? When you're stressed or anxious hydration can be the first thing to go, which only exacerbates the potential for terrible mood swings or depression. If you're like me and you're also addicted to caffeine (I am never giving this up don't bother trying), this can also mean you'll dehydrate more quickly.
With body/diet your mileage will vary, of course, it is easy to forget the basics when you're stressed out. As I'm sure your doctor/nutritionist will remind you, food does contribute to your overall health and well-being. My situation is going to be ten times different because of my physiology, so I don't have advice to give here. I do favor citrus—especially lemon—when I'm feeling down, though, and I always feel better when I limit sugar.
4. Reframe Self-Care
Sometimes, chaos and unpredictability exacerbate my feelings of anxiety because I enjoy having a certain amount of stability to manage my expectations and workload. Ah-hah! Who doesn't?
When life's great, self-care is something I do once in a while. When I'm super stressed out, I add self-care to my To Do list. If I'm on "lock down" and recognize I'm being overwhelmed by the random and frenetic—I add a touch of whimsy so I don't feel guilty about engaging in self-care. Sometimes I'll assign numbers to the list of things I could do and then roll dice. Other times, I'll write ten things on different notecards, shuffle, and then pick.
If self-care is stressful, here's an easy art project you can do when you're not at your limit. Grab a shoebox, use old wrapping paper to decorate the bottom and the top, and label it "My Happy Place". Then, find some sticky notes or post cards and write down things you can do that you associate with feeling happy. These might include: watching a movie, re-reading a book, listening to your favorite band, baking bread, doing your nails, exercising, etc. After you've written these activities down, stick them inside the box. The next time you're feeling like crap, go to your Happy Place, and pick a random card.
I know there's a certain amount of guilt associated with self-care, and I can empathize with that. Self-care is part of stress management for me. I hope if you find yourself in a similar position you'll get the help you need. It's hard to earnestly focus on your health if you don't think it's important.
5. Learn a New Skill
To close this short list of coping mechanisms, I wanted to mention how beneficial learning something new can be for your mental health. When you're in that terrible headspace, it can be challenging to find your way out of the shadows. Learning a new skill benefits me in a couple of ways. First, it helps me refocus my mental energy on something that's not related to the source of my anxiety. Second, learning often includes progress-tracking, so I can see how I'm doing over time. That slows me down and helps me focus on the moment. And lastly, the act of learning is also a really good way for me to remember life goes on—even in darkness.
If this doesn't work for you due to financial or time constraints, the other thing I do is read well-researched non-fiction. The voice is usually very calming and filed under sleep aids for me.
I hope you're faring better than okay. It's been an interesting past couple of years, and I'm sure there's more changes to come. Hopefully, there'll be good news on the horizon.


Recent Articles:
On Dragons in Spaaaaaaaaaace
[SFWA.org] I am Running for Director At Large
From the Developer's Desk: Hunter The Vigil Second Edition Kickstarter Debrief
Enjoy a Two-Part Deep Dive about Magic and Motherhood in The Witcher
FFS, Writers. Encouraging Shame and Guilt Hurts More than Helps.