Discover more from Monica's Marvelous Musings
Monica's Marvelous Musings covers topics in storytelling, art, music, and narrative design through a genre lens.
American Spaghetti with Bacon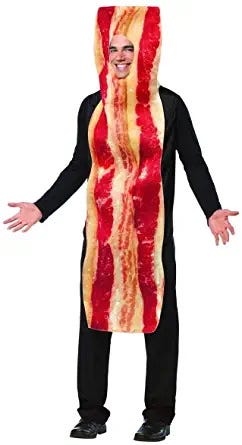 Got bacon! One of the things I love about cooking is that simple tweaks can create new flavors and, in my case, new traditions. This recipe I whipped up is a blend of Italian cooking and American flavors. I love this recipe so much I shared it for an art installation at the Madison Museum of Contemporary Art!
Ingredients
1 pound ground turkey
1 pound whole wheat spaghetti
1 jar generic spaghetti sauce
3-5 strips uncooked bacon
Secret Spices! Shhhhhh…
red wine
maple syrup
garlic
dried shallots
oregano
olive oil
red pepper flakes
Instructions: Slice the uncooked bacon into square pieces. Then, brown ground turkey with bacon in skillet. Add about a tablespoon of olive oil and as much garlic as you normally would (or, in my house, can stand). Once it's cooked, you'll want to drain the fat before you add anything else to your concoction.
After I put the meat back in the pan, I add about a quarter cup to a half cup of red wine and stir that into the meat. I find that the wine takes that "turkey taste" edge right off. Then, add your tomato sauce, some dried shallots and oregano. Let that simmer for about five minutes on low heat. If your sauce thickens too much, add a little bit of water to it to thin it out.
While your sauce is simmering, fill your pasta pan with water and add a tablespoon of olive oil, a pinch of salt and some herbs. Don't be afraid to be generous with your sprinklings here. This step is totally worth it because the taste of the herbs will infuse into the noodles while they cook, which makes a cheap pasta taste like it was created at a gourmet restaurant. Once the water is boiling, you'll want to follow the directions on the box to ensure your pasta is cooked correctly. I usually break the spaghetti in half before I add it to the pot.
Immediately after you've added your pasta to the water, stir your spaghetti sauce and add a sprinkle of red pepper flakes and about a tablespoon of the best maple syrup you can find to it. Then, turn your heat down on your sauce even lower. Once your pasta is done, you're ready to eat my recipe for spaghetti with bacon.
The best part about this concoction, is that there's a number of different ways you can spice this up. I should point out, however, that if you're going to use red meat you might want to consider adding some milk to your tomato sauce instead of maple syrup. Beef tends to have a fuller flavor and you don't want your spaghetti sauce to taste like a bacon burger. Or maybe you do? Either way, there's a lot of variations that you can try here.
Sadly, this is not a vegetarian recipe but that doesn't mean I won't try a version that's vegan-friendly. If you're meat-free and are inspired, be sure to let me know what you've come up with.
Do you have ideas for bacon-tastic recipes? Come in and comment. The bacon is warm and crispy!
This recipe was inspired by this week's Make Art Not War theme for our collective. Follow the #makeartnotwar hashtag on Twitter and join/follow us in our creative ventures! #covengoals